Application
Six sided drilling machine is mainly used for horizontal,vertical drilling and slotting in various types of artificial panels, with small power spindle for slotting, solid wood
panels, etc. Simple operation, fast drilling processing speed, with small spindle slotting,
it is suitable for processing all kinds of modular cabinet-type furniture. Six-sided
drilling machine can fix the workpiece in one clamping and multi face machining.
It simplifies the overall machining process of the workpiece, simplifies the process,
improves the machining efficiency. It has also completely solved the problem that the
complicated workpiece needs the error caused by multiple clamping, which reduces
the work difference and improves the machining precision.

More Details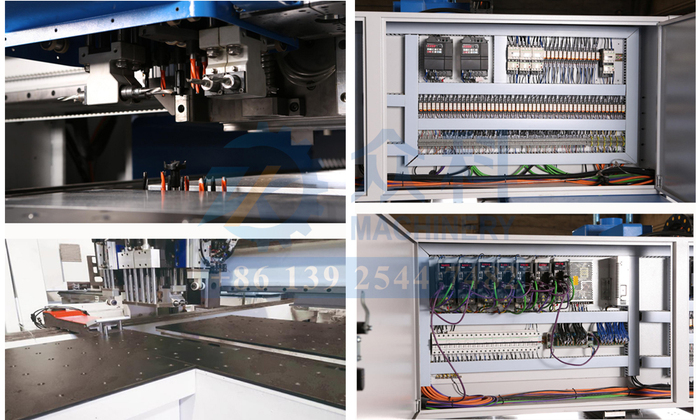 Technical Data
Model

ZK-Y1200

Max positioning speed

X aixs

130m/min gripper moving

Y aixs

85m/min drill center moving

A aixs

60m/min

Z aixs

35m/min

upper and lower drill center

Upper and lower drilling assembly unit

Upper drill center

12pcs (Vertical drilling) + 12pcs( Horizontal drilling)

Lower drill center

16pcs(Vertical drilling)

Drilling unit motor power

2.2kw(upper drilling unit)+2.2KW(lower drilling unit) 4000rpm

Boring and Milling spindle

Spindle form

Er32

Drill bit diameter

φ10mm

Spindle motor power

3.5kw(upper spindle)+2.2KW(lower spindle)

Spindle speed

18000rpm

Processing size range

Min panel width

50mm

Max panel width

1200mm

Min panel length

250mm

Max panel thickness

50mm

Worktable height

920mm

Air consumption

0.6-0.8Mpa

Total motor power

18kw

Weight of machine

4500kg

Overall size (L×W×H)

4750×2880×2050mm